http://asiapacific.anu.edu.au/newmandala/2014/04/10/the-jokowi-effect-no-breakthrough-against-oligarchy/
I was wrong. The media was wrong. The polls were wrong. There is no Jokowi Effect. Or maybe there is one, but it is not strong enough to break the stranglehold Indonesia's party oligarchy has on the electorate.
There is no doubt that Jokowi is a percentage booster for PDIP, but that shows two things. PDIP must be in dire straits to achieve such mediocre results, which means they would do really poorly without Jokowi. The second thing is that Jokowi will not necessarily win against Gerindra, whose weakness is in in public morality and not in perseverance and intelligence.
Jokowi backers might have the morality but not the will to win, as they are not investing in the Jokowi candidacy by voting for the party that will launch him.
But my friend A, a keen political observer, points out that for her, PDIP's debacle is a blessing in disguise. She is in fact relieved that PDIP got a modest 20% and not a thumping 35%, because it confirms her view that Indonesian politics will not be reformed by just a single individual but by elimination of the political oligarchy. Jokowi gives hope to the Indonesian public, but PDIP is the same old story of a party failing to modernize, clinging to an archaic leadership exemplified by subservience to Ibu Megawati.
Jokowi has been a good little cadre, but the party has let him down.
As writer Goenawan Mohamad pointed out in his tweet, whether or not there is a Jokowi Effect, he is more popular than his political party. And that, in my friend's view is good because we need to reject the party's adherence to old tired politics. Now Jokowi has the choice to either break loose from Megawati's control or remain a party tool to rescue PDIP from oblivion.
PDIP have to play the coalition game now, bringing business as usual back to be the mode of political power building. They are not the party of the people but the party of blind loyalists, unless they cut Jokowi loose and encourage him to mobilize the good people of t he land, most of whom are not PDIP members. Have Jokowi indicate who he will select as VP, as his cabinet and his advisers. More than 20% awaits him if he is successful in building an off-party support base.
Indonesian is the third largest democracy in the world and the electoral mechanism is good. The voters have to catch up by providing content to the structure. It is ironic that a democracy that has been created by a reform minded public, the presidential candidates – except for Jokowi – are people who are responsible for the human rights atrocities and rampant corruption that have caused Indonesia to remain hostage to the politics of the Suharto era.
Ours is a good democracy with poor voter socialization on the issues and on the public crimes to be avoided. We still make the wrong choices between good and bad.
In 2013 some significant civil society leaders resolved to shed their political apathy. Their NGOs have been doing excellent work through the years but their hard work is neutralized by the stranglehold of politicians cum businessmen who protect their behavior in ravaging Indonesia's forests, misguided populist policies and outright greed. Not to mention total lack of responsibility for human rights committed in the past and present. These dedicated activists are more intelligent than DPR legislators but they have not been applying their energy to political reform. Now they are producing important like the bersih2014.net website, a handy guide to pick out clean legislative candidates. Efforts like this are very positive, but it may be too little and too late. Calls for investigation of human rights violation in the1998 May riots, the violence of the Trisakti and Semanggi incidents and the assassinations of human rights activists are countered by full defense of New Order forces. Many of the youth today ignore human rights violation and state corruption.
The quick count results are a humiliation. It's sad to have violators of human rights and blatant power manipulators show equal strength as a fresh popular leader. It demonstrates failure to translate Jokowi's popularity into electoral votes.
It is not too late for remedial action but time is running out. The hopeful public must rescue Jokowi from the weight of the PDIP position and elevate him into a leader of the people, not the party mascot donated by Megawati. To the extent that he can make himself credible as an independent leader, he will be able to leave the PDIP to their own concerns as he responds to the needs of the broad public.
Wimar Witoelar served as the spokesperson for Gus Dur in Indonesia's first elected government and is a longstanding analyst of Indonesian politics. He is a consultant for InterMatrix communications.
http://asiapacific.anu.edu.au/newmandala/2014/04/10/why-was-the-jokowi-effect-limited/
One major focus of discussion in the aftermath of yesterday's legislative elections in Indonesia is why the much-anticipated Jokowi effect for the PDI-P seems much smaller than anticipated. Rather than achieving the 25% or even 30% projected by opinion surveys, most quick counts suggest the party will get around 19% of the national vote.
Explanations for this disappointing outcome have so far focused on national factors, such as weaknesses in the PDI-P's advertising strategy and its failure to capitalize on Jokowi's candidacy. These explanations seem plausible, but so does another: the effect of 'ground war' style campaigns run by individual candidates.
In Indonesia's open list electoral system, voters have the opportunity to vote either for an individual candidate or for a party. Whether a party wins a seat in a particular constituency depends on the accumulated vote for the party and all its individual candidates in that constituency. However, the candidate from that party who takes the seat is the individual who wins the highest personal vote. This system generates a strong incentive for individual candidates to devote their resources to campaigning for themselves, rather than for their party. In fact, it often means that the major axis of competition is between candidates from the same party, rather than different parties.
In a tour through 18 provinces in the lead up to and during the election campaign period, it was obvious that most candidates were single-mindedly focused on their personal campaigns. Most candidates made little use of party structures, instead constructing personal 'success teams' to connect them to voters and, often, to deliver patronage goods of various kinds to them. When interviewed, candidates often hardly mentioned their parties, or did so only when explicitly asked about them. Even vote-buying is a candidate-centered rather than a party affair: it is individual candidates who organize vote buying and they do so in order to boost their personal vote.
This context generates one possible explanation for why the Jokowi effect was limited: rather than voting on national issues, such as party identification or preferred presidential candidates, many citizens cast their votes in response to grassroots campaigns encouraging personal votes. Viewed in this perspective, the national vote is not simply a product of voters' views on national issues or even their preference for individual parties or presidential candidates, but is also a reflection of the accumulated personal votes made for the individual candidates who have most effectively constructed personal campaign machines and provided voters with personal incentives to vote for them. The highly fragmented overall party map can also be explained through this perspective.
This is just a hypothesis, and there will be two ways to check it in coming weeks. First, we will need to look at the results to compare the proportion of votes for parties versus the proportion for individual candidates. In Jakarta on voting day I was with a number of colleagues in a polling booth where there was a huge PDI-P vote, with about 80% of those voting for PDI-P voting for the party rather than for an individual candidate. But it's likely that this result is atypical. Certainly, candidates around the country devoted themselves wholeheartedly to boosting individual rather than party voting and it will be critical to identify the extent to which voters responded to these appeals.
Second, we should look at the rate at which incumbents are reelected in 2014. In 2009, the open list system was introduced at the last minute, as a result of a Constitutional Court decision. This meant that many incumbents had paid little attention to constituency work in the lead up to the election, because they had expected that their high positions on a party list would be sufficient to get them reelected. The result was a high rate of turnover, with many incumbents being rejected by voters. This time around, everyone has had five years to prepare for the open list election, and many incumbents have worked assiduously to build personal networks, deliver pork barrel projects to their constituencies and construct personal campaign teams. It's likely that the rate at which incumbents are reelected this year will be much higher than in 2009.
It is very early days, but we need to be thinking about how campaigning styles at the grassroots affected the national result. In an open party list system, the ground war waged by individual candidates can undercut the 'air war' waged through the national media and reflected in national opinion surveys.
Acknowledgment: I was travelling through Indonesia visiting not only candidates, but also researchers who were working on a joint Australian National University-Universitas Gadjah Mada research project on electoral dynamics in Indonesia, funded by the Centre for Democratic Institutions. I learned a great deal from the fifty local researchers involved in this project and thank them deeply for their insights.
What went wrong with the PDI-P and Jokowi?
http://blogs.ft.com/beyond-brics/2014/04/10/guest-post-what-went-wrong-with-the-pdi-p-and-jokowi/?
By Jeffrey Winters of Northwestern University
For the Indonesian Democratic Party-Struggle (PDI-P), initial results of Wednesday's legislative election are anaemic.
The nomination of Joko Widodo as its presidential candidate in March was supposed to catapult the PDI-P to over 35 per cent of the vote. Even without Jokowi, as the Jakarta governor is known, the party expected to get 25 per cent. Instead, it received a paltry 19 per cent, according to usually reliable "quick counts" by polling agencies.
Given the high expectations, this showing is disastrous for the PDI-P and Jokowi. It could portend more trouble ahead for Jokowi and signal an opening for his main presidential rival, Prabowo Subianto.
The core problem is that Jokowi and Megawati Sukarnoputri, the former president and PDI-P chairwoman, don't really like or trust each other.
Megawati, who is the daughter of Indonesia's founding president Sukarno, has a closely guarded inner circle which doesn't include Jokowi. His huge popularity forced Megawati and the PDI-P leadership to endorse him. But they view Jokowi as an outsider, an intruder. He's more of a problem to be dealt with and managed than an organic product of the party or the family.
This explains why the launch of Jokowi as the PDI-P's presidential candidate was so unenthusiastic. Instead of announcing Jokowi before 100,000 frenzied party faithful at Jakarta's biggest stadium, Megawati sat subdued at a table and held up a hand-written note to the cameras stating, in tortured prose, that Jokowi would be the presidential candidate. She looked as if she had an invisible gun to her head.
It was an anti-climax and it signalled something was very wrong with the Jokowi-Megawati alliance. The legislative campaigning that followed revealed yet more internal problems. Megawati and the PDI-P were deliberately not making use of Jokowi. Megawati and her daughter Puan were plastered all over TV ads for the party. Jokowi was nowhere to be seen.
He did finally appear in ads in the final two days of campaigning. But Jokowi's team was starved of funds for his own campaign. When Jokowi did finally shoot a couple of TV spots, a hapless vice-presidential hopeful (from another party) invited to hang out at the studio was stunned to be presented with the bill.
There is minimal coordination between the PDI-P apparatus and Jokowi's machine. The two groups do not overlap and communication between them is poor. Perhaps the biggest conflict is over gathering donor support.
Campaigning is costly in Indonesia. There are plenty of big money donors around to pay for it. But the problem is, pay whom? Indonesia's oligarchs are excited about Jokowi's candidacy, but they're not so excited about the PDI-P and especially not about Megawati, who is not known for being friendly to business.
The big donors are caught in the middle of the deep frictions within the Jokowi-Megawati alliance. Her party has made it clear to the oligarchs that all donations must go to the PDI-P treasury. And then the party will allocate resources to Jokowi as it sees fit – thus far, a trickle.
Meanwhile, Jokowi's team wants as much independence from Megawati and the party as it can muster – for which it needs an independent flow of operational funds. Some tycoons have been warned by Jokowi's camp not to donate to the PDI-P and instead give directly to the Jokowi machine.
Many of the oligarchs are paralysed by this tug of war. There are serious risks if either camp is alienated.
If Jokowi and the PDI-P don't iron out their problems, they could lose their bid for the presidency. As it stands, the hope that he could win more than 50 per cent of the vote in July's presidential election has probably been dashed. That means there will almost certainly be a second-round run off between Jokowi and Prabowo in September.
Meanwhile, Prabowo and his Gerindra party detected these weaknesses in their opponents' alliance weeks ago. The announcement of Jokowi's nomination triggered Prabowo's fighting spirit, and his Gerindra machine has been working all out while Jokowi and the PDI-P sputter along, squabble internally and under-perform.
The legislative results suggest that if the Jokowi-Megawati alliance remains broken, the battle for the presidency between Jokowi and Prabowo could be very tight.
Jeffrey Winters is a professor of political science at Northwestern University and the author of Oligarchy.
The chosen one stumbles
A parliamentary election complicates life for the presidential front-runner
http://www.economist.com/news/asia/21600746-parliamentary-election-complicates-life-presidential-front-runner-chosen-one-stumbles
THE world's third-largest democracy went to the polls on April 9th in parliamentary and local elections. A public holiday was declared to encourage 190m-odd people to cast their votes at 545,000 polling stations for over 235,000 candidates contesting 20,000 or so elected posts.
The official results of this monumental exercise will not be known until early next month. But based on past experience, exit polls published the same afternoon have probably given a fairly accurate picture of the outcome.
While much went as predicted, the big surprise was the relatively poor showing of the main opposition party, the Indonesian Democratic Party of Struggle, or PDI-P. It was widely expected to get a significant boost from the popularity of its recently declared presidential candidate, Joko Widodo, widely known as Jokowi, the governor of the capital, Jakarta. Party managers were hoping the PDI-P would get 25-30% of the popular vote, but the exit polls suggest it will have to settle for 19%.
The result will undoubtedly make life more difficult for Jokowi in the presidential election on July 9th. Under Indonesia's complex electoral rules, a party needs at least 25% of the popular vote in these parliamentary elections—or 20% of the seats—to be able to nominate its own candidate for the presidential race. Thus the PDI-P appears already to have fallen well short of the popular threshold, and may also fall short in parliamentary seats. If so, it will have to enter into a coalition with one or more parties.
Such is Jokowi's extraordinary popularity that his own candidacy seems assured. And the PDI-P might anyway have formed some sort of coalition even had it done astoundingly well on April 9th. But the PDI-P's underwhelming performance gives Jokowi and the party leader, Megawati Sukarnoputri, daughter of the country's founding president and a former president herself, a weaker hand when it comes to picking the vice-presidential candidate and other senior posts in a new government. Ms Megawati was obliged to choose Jokowi as the party's presidential candidate because of his obvious popularity, despite presidential ambitions of her own. Now both will have to fight a bit harder for the government that they want.
The other main parties, all broadly secular and nationalist, trailed not far behind the PDI-P. Golkar, the political vehicle of the late Suharto and now led by an oligarch and presidential hopeful, Aburizal Bakrie, won about 12% of the vote, while Gerindra, headed by a former special-forces commander, Prabowo Subianto, won about 11.5%. The big loser was the Democrat Party of the outgoing president, Susilo Bambang Yudhoyono. Having won 21% of the vote at the last election in 2009, its share dropped to just 9%, a poor fourth.
Voters were punishing the Democrats for a series of high-profile corruption cases involving the party's senior officials. But the showing also reflects a feeling of disillusion with the two-term president, who promised much but failed to deal with rampant corruption, lousy infrastructure and much else. The fate of the Democrat Party in the parliamentary polls is a warning to the next president of what voters now expect of him, whether or not it turns out to be Jokowi.
Some of the smaller Islamic parties in the world's largest Muslim-majority nation did better than expected. Now even more parties will sit in parliament than before, making it still more fractious. Some parties will look to flex their new muscle, compounding the challenges facing any government trying to force modernising measures through the legislature. Added to Jokowi's new need for coalition partners, the complex business of governing this highly decentralised, untidy and combative democracy has probably just got that much harder.
Q&A: Indonesian Elections Set Stage for 'Jokowi'
http://blogs.wsj.com/searealtime/2014/04/08/qa-indonesian-elections-set-stage-for-jokowi/
By SARA SCHONHARDT
Current President Susilo Bambang Yudhoyono has reached his two-term limit. A series of corruption scandals tied to his Democratic Party are likely to lead to its share of the vote dropping. Recent opinion polls show the Indonesian Democratic Party of Struggle with the most voter support, followed by Golkar – former autocrat Suharto's political vehicle – and the Great Indonesia Movement Party. The Democrats are expected to come in a distant fourth. Much of PDI-P's popularity owes to its presidential candidate, Jakarta Gov. Joko Widodo–nicknamed or Jokowi — whose neighborhood walkabouts and man-of-the-people appeal contrast greatly with the military generals and old guard Suharto cronies of the past.
Political analyst Doug Ramage from the Bower Group Asia consultancy spoke with The Wall Street Journal about why the legislative elections matter and what they mean for Gov. Widodo's chances for presidential office. Edited excerpts follow.
WSJ: Why do the legislative elections matter for Indonesia?

Mr. Ramage: For the legislature they're important because Indonesia has a chance to have a less fractious parliament. There could be slightly fewer parties and that makes it less complicated for parties to put coalitions together.
Golkar and PDI-P together might win between 40-45% of the total seats in parliament. So you've got the two major parties getting almost half the seats. Already that's more stable than what we've had.
WSJ: The Democratic Party has been polling very low. What does the drop off in support say given that the party did so well in the last election?

Mr. Ramage: It tells us that Indonesian voters are incredibly pragmatic. They're really only voting on two or three major things. By far and away, the number one issue in all the polling is how a party or a candidate is perceived on the issue of corruption.
The second thing that motivates voters is employment, inflation and economic issues. On those criteria, voters loved [President Yudhoyono] because of his anti-corruption credentials, and he ran for re-election in 2009 on an anti-corruption platform. Now we've just seen a series of corruption scandals over the leadership of the party over the past five years. None of it touched on the president personally– I don't think voter see that– but with the party, they're abandoning it in droves.
WSJ: Political parties in Indonesia really lack any strong platforms or ideology. Can you describe what issues they're campaigning on?

Mr. Ramage: All the parties are very similar in the broad sense, they all support national unity, they all support more economically nationalist policies. I think all parties believe that Indonesia should get a larger share of investments in this country, particularly on natural resources.
WSJ: How does the outcome of legislative elections position Indonesia going into the presidential contest?

Mr. Ramage: Voters here do what Americans would call splitting their ticket. There are people who like Jokowi, and absolutely intend to vote for him in the presidential election but don't necessarily connect the future effectiveness of his presidency to whether his party does well . That's why we're hearing his party chairwoman Megawati on the campaign trail reminding voters to try to make the connection: "If you want [Gov. Widodo] to be president, you've got to vote for my party."
The 'Jokowi Effect' Could Be the Most Important Thing in Indonesia's Elections
http://time.com/54865/indonesia-elections-jokowi-joko-widodo/
The presidential candidacy of the wildly popular Jakarta Governor Joko Widodo, nicknamed Jokowi, is credited with ending voter apathy in elections being held in the world's most populous Muslim nation
The reason was the so-called Jokowi effect. The presidential candidacy of the wildly popular Jakarta Governor Joko Widodo, nicknamed Jokowi, has been credited with boosting everything from
Indonesia's elections are a staggering operation. With around 186 million eligible voters, the sprawling archipelago nation is the third largest democracy in the world after India, whose elections began on Monday, and the U.S.
Indonesian voters were to choose more than 235,000 legislative candidates competing for nearly 19,700 seats in national, provincial and district-level legislatures.
There was initially little excitement about the polls. The country's politics have always been tainted by scandal and graft, but a series of recent cases that landed a number of legislators in jail have dealt fresh blows to the image of the Indonesian parliament. According to a poll by the Indonesian Research Institute, nearly two-thirds of respondents saw the House of Representatives, or the DPR, in a negative light. A survey by Transparency International last year put the DPR as the country's most corrupt institution, a dubious distinction it shared with the police.
Abstaining voters — known in Indonesian as golput, an acronym for golongan putih — have been on the rise in the previous elections, reaching 29% in 2009, up from 16% in 2004. But the presidential candidacy of the Jakarta governor, a down-to-earth politician untainted by controversy, could change that.
"Jokowi is seen as a figure of hope and as an alternative," says political observer Wimar Witoelar, who once served as a spokesman for former President Abdurrahman Wahid, also known as Gus Dur. "Many young and first-time voters are likely to vote for PDI-P, and there could even be fewer abstaining voters."
It won't be until July that Indonesia holds the presidential election, but the Wednesday parliamentary elections are as much as about choosing the country's next President as they are legislators. "My mother said she actually likes yellow [Golkar Party] better. But because she wants Jokowi, she had to choose red [PDI-P]," tweeted novelist Ayu Utami on Election Day.
Jokowi's political platform is little known, though his programs, from slum development to health care, reflect his party's pro-small-people, populist stance. With more than half of the ballots counted late Wednesday afteroon, a quick count by Indikator's pollsters showed that PDI-P got 19.6% of the vote — below the predicted 24.5% but sufficient to propel it from third to top spot.
Its two closest rivals are fellow nationalist, secular parties: Golkar, late President Suharto's political vehicle, got 14.3% and Gerindra 12.2%. Meanwhile, the governing Democratic Party, beset by corruption scandals, is at the fourth place, with a mere 9.7% of the vote.
Indonesian electoral law stipulates that only parties that secure at least a quarter of of the popular vote or one-fifth of the 560 seats in the DPR can nominate a presidential candidate. Parties that fail to meet the threshold will have to cobble together a coalition — a move that is seen to have crippled and hobbled outgoing President Susilo Bambang Yudhoyono's government, particularly on issues like the fuel subsidy and religious intolerance.
Fed up with infighting within Yudhoyono's coalition, which comprises both nationalist and Islamic parties, some voters say it is crucial to have a more unified government. "I think people need to vote for PDI-P candidates — as long as their integrity is better than those from other parties — and Joko Widodo as President. We need a stable government in the next 10 years," architect and urban activist Marco Kusumawijaya wrote on Facebook, referring to the President's maximum two terms in office.
Indonesia, which has the world's biggest Muslim population, is likely to see the ongoing dominance of secular, nationalist parties and the struggle of Islamic parties to win votes. Among the latter is the Prosperous Justice Party, whose supposedly clean image has been tainted by graft and sex scandals, as well as the polygamy of its politicians. "Indonesians are basically secular nationalists," says Wimar. "Religion is a guide in their private lives, not in politics."
A clean and fair government is something that voters hope Jokowi and fellow politicians could bring. The proliferation of social media — Indonesian netizens are among the world's most avid users of Twitter and Facebook — helps young, urban voters decide whom they should vote for. In the run-up to elections, a coalition of human-rights and anticorruption NGOs launched the website Bersih2014and a related Twitter account, listing clean candidates. For weeks, Facebook and Twitter have also been buzzing with the names of not so well-behaved politicians and parties — snapshots of alleged evidence of bribery attempts abound.
The late Gus Dur, whose presidential term ended abruptly in 2001 after sparring with the legislature, once likened the DPR to a kindergarten. In today's elections, the fourth since the fall of the strongman Suharto in 1998, there is finally hope that Indonesia is now more apt to vote more mature politicians into parliament — and with that, create a better government.
Indonesia votes as new candidate draws bama comparisons
http://edition.cnn.com/2014/04/08/world/asia/indonesia-election/
By
Kathy Quiano
and
Madison Park, CNN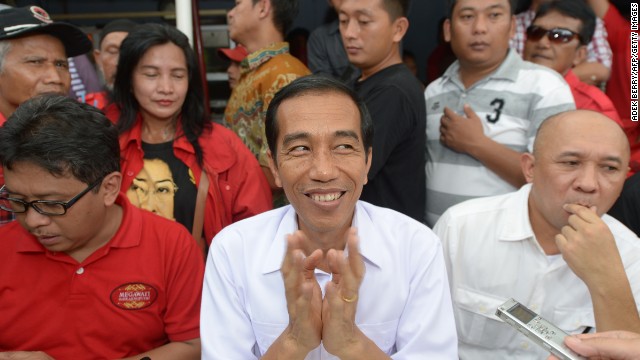 Jakarta, Indonesia (CNN)
-- Indonesians are heading to the polls Wednesday to elect its lawmakers in a crucial vote that will set the stage for the upcoming presidential elections.
Grappling with questions over the country's economy and corruption, voters will choose among 19,669 candidates for 532 legislature seats, at the national and sub-national level.
Leading the presidential polls is a charismatic Jakarta governor, who is drawing comparisons to the 2008 version of Barack Obama. There are also smaller parties and colorful candidates including an Elvis impersonator, a former beauty queen and a singer.
In this election, the political parties must win 25% of the popular vote or 20% of the legislative seats in order to officially nominate their candidates for president and vice president. The presidential election is slated for July 9.
Wednesday's vote will shape the presidency as current President Susilo Bambang Yudhoyono will end his 10-year tenure this year. Indonesian law prohibits third terms.
Recent surveys in Indonesia show a clear frontrunner for his successor.
Joko Widodo, a 52-year-old former furniture exporter, built a reputation during his tenure as the mayor of Surakarta in Central Java. The candidate known as Jokowi draws similarities with Obama, because it's a case of a relatively unknown candidate captivating national attention, says Douglas Ramage, an analyst with Bower Group Asia, based in Jakarta.
"Anyone who was disenchanted with the current government pours their hopes and dreams on him," he told CNN.
Widodo's supporters cheered on March 14, when his party, the Indonesian Democratic Party of Struggle or PDI-P announced him as its presidential candidate.
Described as "folksy and self-effacing," Widodo's leadership style has endeared him to supporters. He rose to national prominence in 2012, when he became governor of the capital, Jakarta.
For many, his victory signaled a clamor for a new breed of political leaders.
"If he becomes president in July, he would be the first Indonesian president who doesn't come from a military, bureaucratic or elite background," Ramage said. "We could be looking at a real generational shift in Indonesian politics."
The Jokowi effect, as many call it now, is expected to change the political landscape. It may even spur apathetic voters, particularly among first-timers, to exercise their right to vote.
"I'm too lazy to line up and vote but I'll decide on the day itself," said Karin, a 28-year-old who voted for Yudhoyono in the last two elections. "But I do want Jokowi to be president."
But skeptics question whether Widodo has enough experience for the top post.

One opinion piece in the

Jakara Post

asked: "Can Indonesia afford untested leadership in this age?" For now, Widodo has had a "Teflon aura" because criticisms haven't stuck to the candidate, Ramage said.
Another contender is Prabowo Subianto, a former general and son-in-law of Suharto, the former strongman who ruled Indonesia for 32 years. Prabowo, the presidential candidate for the Great Indonesia Movement (Gerindra) party, trails Widodo in most surveys by double digits.
Over the years, the number of national political parties has whittled down to 12, but the established ones, like the PDI-P and Golkar, which Suharto founded, still dominate legislative elections.
On Wednesday, each voter will be handed four ballots at the polling station, two for the upper and lower house, one each for the provincial and district legislatures. It can be daunting, even for seasoned voters.
Fitri, a 32-year-old working mother, is still unsure whom to vote for. "I don't even know the candidates' names," she said.
Yudhoyono won the country's first direct Presidential vote in 2004, by a landslide, but his popularity has waned since then because of high-profile corruption cases involving members of his Democratic Party.
He ran explicitly on a platform of anti-corruption in 2004 and 2009, said Ramage. "When voters are asked why they're not supporting Yudhoyono's party, there's a sense of betrayal of promise."
Indonesia is the world's third's largest democracy, after the United States and India, which is also currently holding elections. The Indonesian poll will span across 17,000 islands.
Final results are not expected until late April or early May.
Indonesian national exam paper features presidential candidate Jokowi's name
http://israelforeignaffairs.com/indonesian-national-exam-paper-features-presidential-candidate-jokowis-name
INDONESIA –. The Education and Culture Ministry said on Tuesday it was investigating an incident in which students sitting the national examinations were reportedly given questions regarding Indonesian Democratic Party of Struggle (PDI-P) presidential candidate and Jakarta Governor Joko "Jokowi". Widodo.
The controversy emerged as the government claimed that the first day of national exams for senior high school students nationwide on Monday ran smoothly, with only minor glitches such as exam paper shortages, incorrect labelling on exam material packages and the circulation of answer keys in several schools.
The appearance of Jokowi's name on the question sheets in the lead-up to the presidential election in July has drawn widespread criticism, including from Jokowi himself, who suspected the incident was part of a negative campaign against him.
"We're currently conducting an investigation to find out the reasons behind this. We want to know whether it was an intentional move or negligence,". Education and Culture Minister Mohammad Nuh said on Tuesday at the State Palace. "We deeply regret it. There are a lot of other figures. They shouldn't have picked one that could potentially cause such controversy."
Jokowi's pro-poor initiatives were referred to on sociology exam papers circulated in Depok, a satellite city of Jakarta, tribunnews.com reported on Tuesday.
The news portal quoted a student from SMA Al-Qudwah on Jl. Margonda, Depok, who said that the questions didn't name Jokowi. Mentioned "Jakarta Governor". Jokowi's "Kartu Jakarta Sehat [KJS] healthcare programme and Kartu Jakarta Pintar [Jakarta Smart Card] programme".
The report came a day after a picture of an Indonesian language exam paper featuring Jokowi's name was circulated on social media.
An Indonesian language [KJS] containing Jokowi's name was also found in Semarang, Central Java. It described Jokowi as an honest figure and a hard worker in a biography for a multiple-choice test and had a question about him based on the biography.
Although the ministry has said that the exam materials were produced in July last year, before Jokowi announced his candidacy last March, the minister warned that those proven to have played a role in the incident "will be punished". Nuh said he'd already reported the incident to President Susilo Bambang Yudhoyono and the latter has asked him to investigate it.
National Commision for Child Protection (Komnas PA) chairman Arist Merdeka Sirait said the ministry should be held responsible for the gaffe. "I believe it was an intentional omission by the ministry. They should be more sensitive although they said it was drafted before Jokowi's presidential candidacy,". Arist told The Jakarta Post. "Don't take advantage of those high school students. We all know they're mostly first time voters."
Since January last year, Jokowi has been touted as an ideal presidential candidate by political analysts and various pollsters, despite being Jakarta governor for less than two years.
On Tuesday, Jokowi made it clear that he'd nothing to do with the controversy and insinuated that it was part of a scheme to attack his credentials. "Somebody is trying to make it look like I was involved in the making of the question list, whereas I was nowhere near the process. I'm perturbed by this issue,". Jokowi told reporters at City Hall, emphasizing that he wouldn't remain silent in the face of the issue.
"I'll take action on this. Otherwise the culprits will see me as a weak character. They might think 'Oh, he's not going to do anything when prodded,'. [but] I'm not going to stand still this time around,". He added.