New York Times World
https://twitter.com/nytimesworld/status/549587946014507009/photo/1
Maps on the disappearance of AirAsia
#
QZ8501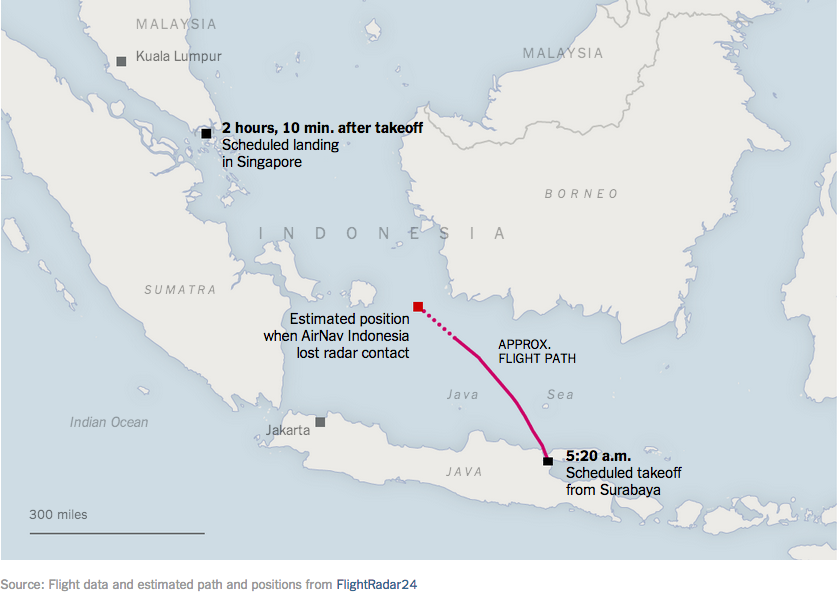 In crowded skies, lost plane's request for new path denied
http://bigstory.ap.org/article/c9d175f3f8e94f81b108a26cf49c12f2/indonesian-official-prospects-bleak-missing-jet
SURABAYA, Indonesia (AP) — The plane sought permission to climb above threatening clouds. Air traffic control couldn't say yes immediately — there was no room. Six other commercial airliners were crowding the surrounding airspace, forcing AirAsia Flight 8501 to remain at a lower altitude.


Minutes later, the jet carrying 162 people was gone from the radar. No distress signal was issued. It is believed to have crashed into Indonesia's Java Sea on Sunday morning, but exactly what happened — and whether the plane's flight path played any role — won't be determined until after the aircraft is found.


Broad aerial surveys on Monday spotted two oily patches and objects in separate locations, but it's unknown whether any of it is related to the missing Airbus A320-200.


The plane left Surabaya, Indonesia, but vanished halfway into what should have been a two-hour hop to Singapore. Officials on Monday saw little reason to believe the flight met anything but a grim fate.


"Based on the coordinates that we know, the evaluation would be that any estimated crash position is in the sea, and that the hypothesis is the plane is at the bottom of the sea," Indonesia search and rescue chief Henry Bambang Soelistyo said. Search officials did, however, plan to expand their search efforts onto land on Tuesday.


The last communication from the cockpit to air traffic control was a request by one of the pilots to increase altitude from 32,000 feet (9,754 meters) to 38,000 feet (11,582 meters) because of the rough weather. The tower was not able to immediately comply because of the other planes, said Bambang Tjahjono, director of the state-owned company in charge of air-traffic control.


Sarjono Joni, a former pilot with a state-run Indonesian carrier, said the usual course of action when planes run into rough weather is to veer either left or right. A request to climb would most likely come if the plane was experiencing heavy turbulence or otherwise causing serious passenger discomfort, he said.


He added that heavy traffic is not unusual for any given airspace.


The twin-engine, single-aisle plane was last seen on radar four minutes after the final communication from the cockpit.


Search and rescue crews were looking for the plane with at least 15 ships, seven aircraft and four helicopters, national search and rescue spokesman Jusuf Latif said. Most are Indonesian but Singapore, Malaysia and Australia have contributed planes, and a ship and aircraft from Thailand were awaiting clearance from Indonesia's Foreign Ministry.


Those numbers do not include Indonesian warships taking part in the search. Many fishermen from Belitung island also have joined in, and all vessels in that area of the sea have been alerted to be on the lookout for anything that could be linked to the plane.


Jakarta's air force base commander, Rear Marshal Dwi Putranto, said an Australian Orion aircraft had detected "suspicious" objects near an island about 100 miles (160 kilometers) off central Kalimantan. That's about 700 miles (1,120 kilometers) from the location where the plane lost contact, but within Monday's greatly expanded search area.


"However, we cannot be sure whether it is part of the missing AirAsia plane," Putranto said. "We are now moving in that direction, which is in cloudy conditions."


Air Force spokesman Rear Marshal Hadi Tjahnanto told MetroTV that an Indonesian helicopter spotted two oily spots in the Java Sea east of Belitung island, much closer to where the plane lost contact than the objects viewed from the Australian plane. He said oil samples would be collected and analyzed to see if they are connected to the missing plane.

An Associated Press photographer flew in a C-130 transport carrier with Indonesia's Air Force for 10 hours Monday over a large section of the search area between Kalimantan and Belitung. The flight was bumpy and rainy at times. It hovered low at 1,500 feet, giving clear visibility to waves, ships and fishermen, but there was no sign of the plane.


The disappearance and suspected crash caps an astonishingly tragic year for air travel in Southeast Asia, and Malaysia in particular. Malaysia-based AirAsia's loss comes on top of the still-unexplained disappearance of Malaysia Airlines Flight 370 in March with 239 people aboard, and the downing of Malaysia Airlines Flight 17 in July over Ukraine, which killed all 298 passengers and crew.


"Until today, we have never lost a life," AirAsia group CEO Tony Fernandes, who founded the low-cost carrier in 2001, told reporters in Jakarta airport. "But I think that any airline CEO who says he can guarantee that his airline is 100 percent safe, is not accurate."


He refused to address compensation issues or any changes that may be made to the airline as a result of this incident.


"We have carried 220 million people up to this point," he said. "Of course, there's going to be some reaction, but we are confident in our ability to fly people."


Indonesian President Joko "Jokowi" Widodo was in Indonesia's Papua province when the plane disappeared but was back in Jakarta, the capital, on Monday. He said he ordered an immediate review of all aviation procedures.


"I was very shocked (by the disappearance) and I could feel the concern, the frustration and the sadness experienced by the passengers' families, and I believe also felt by all the people of Indonesia," Jokowi said at a press conference.


Nearly all the passengers and crew are Indonesians, who are frequent visitors to Singapore, particularly on holidays.


Ruth Natalia Puspitasari, who would have turned 26 on Monday, was among them. Her father, Suyanto, sat with his wife, who was puffy-eyed and coughing, near the family crisis center at Surabaya's airport.


Suyanto remembers the concern his daughter showed for the families of the MH370 tragedy. Puspitasari once told him how sad it must be for the victims' relatives who were left waiting for their loved ones with no certainty.


"Now she is gone in the missing plane, and we should face this sorrow, I can't believe it!" he said, tears rolling down his cracked cheeks. "This is too hard to be faced."


He was still sleeping when Puspitasari left for the airport with her fiance and future in-laws for a New Year's vacation. But he called her just before she boarded, and she told him excitedly that they planned to celebrate her birthday in Singapore.


"I don't want to experience the same thing with what was happened with Malaysia Airlines," he said as his wife wept. "It could be a long suffering."


Few believe this search will be as perplexing as the ongoing one for Flight 370, where what happened onboard remains a total mystery. Authorities suspect the plane was deliberately diverted by someone on board and ultimately lost in a remote area of the Indian Ocean where the water is notoriously deep. Flight 8501 vanished over a heavily traveled sea that is relatively shallow, with no sign of foul play.


Flight 8501 had been airborne for about 42 minutes when it lost contact.


The plane had an Indonesian captain, Iryanto, who uses one name, and a French co-pilot, five cabin crew members and 155 passengers, including 16 children and one infant, the airline said in a statement. Among the passengers were three South Koreans, a Malaysian, a British national and his 2-year-old Singaporean daughter. The rest were Indonesians.
AirAsia said the captain had more than 20,000 flying hours.


"Papa, come home, I still need you," Angela Anggi Ranastianis, the captain's 22-year-old daughter, pleaded on social media late Sunday, which was widely quoted by Indonesian press. "Bring back my papa. Papa, please come home."


At Iryanto's house in the East Java town of Sidoarjo, neighbors, relatives and friends gathered Monday to pray and recite the Quran to support the distraught family. Their desperate cries were so loud, they could sometimes be heard outside where three televisions had been set up to monitor search developments.


"He is a good man. That's why people here appointed him as our neighborhood chief for the last two years," said Bagianto Djoyonegoro, a friend and neighbor.


Many recalled him as an experienced Air Force pilot who flew F-16 fighter jets before becoming a commercial airline pilot.


His co-pilot, Remi Plesel, had been in Indonesia three years and loved to fly, his sister, Renee, told France's RTL radio.


"He told me that things were going well, that he'd had a good Christmas. He was happy. The rains were starting, the weather was bad. It was raining a lot," she said.
___
Mason reported from Jakarta. Ali Kotarumalos, Niniek Karmini and Robin McDowell in Jakarta, Joan Lowy in Austin, Texas, Scott Mayerowitz in New York and Lori Hinnant in Paris contributed to this report.
It's Rare For Planes To Crash When AirAsia's Did
http://www.businessinsider.co.id/its-rare-for-planes-to-crash-when-airasias-did-2014-12/#.VKGMi14AA
An AirAsia Boeing 737 taxis past a Malaysia Airlines Boeing 747 at Kuala Lumpur International Airport.
AirAsia Flight QZ8501 disappeared about 45 minutes after takeoff.
Malyasia Arlines MH370, which vanished without a trace earlier this year, also went down well after it had left the runway and entered the "cruise" phase of flight.
Another Malaysia Arlines flight, MH17, was lost over Ukraine in July, presumable shot down by a missile. It, too, was at cruise altitude, but obviously the circumstances of the disaster were far different from those of QZ8501 and MH370.
Crashes when jetliners are at cruising altitude are rare. The riskiest times of any commercial airline flight are during takeoff and landing. Typically, the worst passengers can expect when cruising is some turbulence.
Some parts are statistically riskier than others although none are anywhere near as risky as many of the other things people regularly do, like drive a car. Airplane travel consists of three phases:

•Descent, approach and landing.

Looking at accident rates for each phase, cruise is the safest part of flying. Only about 8 percent of all accidents occur during this phase. Approximately 30 percent of all fatal accidents occur during takeoff and climb. Nearly 50 percent of fatal accidents occur during descent, approach and landing. (Note: The remaining 12 percent of fatal accidents occur during non-flight phases including taxi, passenger boarding, etc.)

Because so few accidents occur during cruise, long flights are no riskier than short ones.
From the perspective of aviation experts, this is what's most perplexing about both the MH 370 and QZ 8501 incidents: they happened when accidents aren't supposed to occur.
Missing AirAsia flight QZ8501: 6 conspiracy theories after another Asian flight disappears
http://www.mirror.co.uk/news/world-news/missing-airasia-flight-qz8501-6-4888147
Theories: As an another Asian flight disappears, there are a wide range of theories as to what happened
It's been less than 48 hours since AirAsia flight QZ8501 went

missing

but the conspiracy theorists are already at it.
After MH370 and MH17 its the third Asian passenger plane to meet a bizarre and unexplained end.
This time there were 162 passengers on board the flight from Indonesia to Singapore when communications were lost.
The search has resumed today but so far there are no answers as to what happened.
Experts have put forward their own potential explanations while people on social media have not been shy about suggesting their own opinions, however unfounded.
Here we look at some of the potential theories and conspiracies that are currently doing the rounds about the Indonesia flight - some more outlandish than others.
1.The plane was hijacked remotely


Remote Hijack: The idea the plane was hijacked is one of the more conspiratorial theories for AirAsia Flight QZ8501
Remote Hijack: The idea the plane was hijacked is one of the more conspiratorial theories for AirAsia Flight QZ8501
One theory that has popped up on reddit is that the plane was hijacked remotely.
The poster OB1 kenobi wrote: "Someone is testing their remote pilot override capabilities.
"Maybe at longer distances, or on an Airbus to see if they can takeover non-US built aircraft."
The same theory emerged after the disappearance of flight MH370
2.Physical problem with the plane
Mechanical Failure: There could have been a physical problem with the plane, but experts say there isn't precedent with the model
Mechanical Failure: There could have been a physical problem with the plane, but experts say there isn't precedent with the model
There have been 26 crashes involving the A320 plane since it was introduced in 1988 - an average of one a year.
But aviation expert Gideon Ewers told Sky News all of those crashes were caused by other issues than problems with the plane.
3.Bad weather
Poor Weather: The last communication between QZ8501's pilot and air traffic control was when he requested to increase altitude due to bad weather
Before the plane disappeared, the pilot asked to increase altitude to avoid poor weather conditions.
And this time of year is tropical storm season in this time of year - the tsunami of ten years ago was on Boxing Day and the Philippines is regularly hit by major hurricanes.
Australian Prime Minister Tony Abbot said he believed the plane had crashed as a result of "horrific" weather.
But aviation expert Captain Mike Vivian told Sky it was 'unlikely' that sudden weather was the cause - pilots flying in Asia are used to having to deal with them.
4.Economic terrorism
Economic Terrorism: One theory argues that three missing Asia planes is all part of a move to destabilise Asia's economy
Another conspiracy theory is that this and the other missing flight are part of an act of 'economic terrorism' against Asia.
The mysterious disappearance of flights inevitably has a knock on effect as many people become too scared to fly or simply think it's not worth the risk.
With three flights all having unfortunate or mysterious endings will only add to that preception.
5.Human error
Experienced Pilot: Human error is a possibility but AirAsia's Captain Irianto had thousands of hours experience
Pilot error is always a possible cause when a plane crash takes place - if that's what happened here.
But the pilot on this flight Captain Iriyanto had 20,000 hours of flying experience, it has been reported, and was used to flying the same short haul route.
Captain Iriyanto is said to be an experienced Air Force pilot who flew F-16 fighter jets before becoming a commercial airline pilot.
6.Icy conditions
Icy Conditions: One expert says ice is a more likely explanation than thunderstorms
Icy conditions could have caused the plane to stall and 'drop out of the sky', it has been claimed.
Pilot Ray Karam Singh told Sky News this was more likely than thunderstorms as an explanation if the plane did crash.
Stakes High for Indonesia as Aviation Safety in Spotlight Again
http://thejakartaglobe.beritasatu.com/business/stakes-high-indonesia-aviation-safety-spotlight/
AirAsia Airbus A320 airplanes are parked on the tarmac at the low-cost carrier Kuala Lumpur International Airport 2 (KLIA2) in Sepang on Dec. 28, 2014. (AFP Photo/Manan Vatsyayana)
Jakarta. The disappearance of an Indonesia AirAsia passenger jet comes at a sensitive time for Jakarta's aviation authorities, as they strive to improve the country's safety reputation to match its status as one of the airline industry's fastest growing markets.
The Airbus A320, with 162 people on board, is presumed to have crashed into the Java Sea on a flight from Indonesia's second city Surabaya to Singapore on Sunday, putting renewed scrutiny on the regulation of airlines in a country that remains on the European Union's aviation blacklist.
Malaysian-listed budget carrier AirAsia and its regional affiliates have up until now had a near blemish-free safety record, but officials were quick to announce on Monday a review of Indonesia AirAsia's operations.
"We will review Indonesia AirAsia to make sure its performance can be better in the future," Transport Minister Ignasius Jonan told reporters. "Much will be reviewed in terms of its business operations and in terms of air transportation business, so that there are safety improvements."
Indonesia is on track to become one of the world's top 10 aviation markets by around 2020, and could be in the top five with 270 million passengers by 2034, according to projections by the International Air Transport Association.
The country's fast-growing airlines such as Lion Air, Garuda Indonesia and its subsidiary Citilink have been ordering hundreds of aircraft from Airbus and Boeing to meet this demand.
But, despite recent improvements, the air safety record of Southeast Asia's most populous nation remains patchy.
A spate of fatal accidents in the 2000s that culminated in the crash of an Adam Air Boeing 737-400 on Jan. 1, 2007, killing all 102 passengers on board, led to a blanket ban on all Indonesian-based airlines from flying to the European Union.
Around the same time, the US Federal Aviation Administration barred Indonesian carriers from increasing flights to and from the United States, prompting the State Department to caution American citizens about using Indonesian carriers on regional or domestic routes in the country.
"Indonesia has had a questionable safety record. This will once again raise questions about how safe Indonesian airlines are," said Greg Waldron, Asia managing editor at Flightglobal, an industry data and news service. "This is the first incident for Indonesia AirAsia, but it will cast a spotlight once again on the entire industry."
The European Commission began granting exemptions to the EU flight ban for some Indonesia airlines in 2009, including Garuda Indonesia, which subsequently began direct services to Europe, and Indonesia AirAsia.
But the ban remains in force for most of the country's airlines, including Lion Air, one of the world's fastest growing carriers. Lion Air co-founder Rusdi Kirana told Reuters recently that he expected the ban on his airline to be lifted next year.
Despite improvements, since 2010 there have been 13 serious incidents involving passenger aircraft in Indonesia, excluding the disappearance of the AirAsia jet. Eleven of those resulted in the plane being written off and four incidents involved fatalities.
An official from Indonesia's transport ministry told Reuters that the country expected to take the lead in any investigation into the fate of the AirAsia plane.
"The aircraft was registered in Indonesia and it looks to be missing over Indonesian territory. So we will lead the investigation. We have the expertise to do this," said the official, speaking on condition of anonymity.
The Jakarta-based National Transportation Safety Committee has a dedicated team of air crash investigators — many of whom are former airline or transport ministry officials — and has a reputation for being meticulous in its investigation of air incidents, according to aviation experts.
"They have the expertise to investigate air crashes, ironically because of the large number of them," said Flightglobal's Waldron. "Their reputation is at stake and they will want to get this right."
Indonesia Learns Lessons From MH370 in AirAsia Plane Disaster
http://mobile.bloomberg.com/news/2014-12-31/indonesia-learns-lessons-from-mh370-in-airasia-plane-disaster.html?hootPostID=a168c9020f6701c7600678195726da59
Photographer: Ed Wray/Getty Images
An Indonesian Navy Pilot looks out the cockpit window during a search of the waters near Bangka Island for debris from AirAsia Flight QZ8501 in a navy fixed wing patrol craft near Bangka Island, Indonesia, on Dec. 30, 2014.
Indonesia
's search for a downed AirAsia Bhd. plane avoided the missteps that plagued the still fruitless hunt for a Malaysian jet that disappeared almost 10 months ago.
"The Indonesian government and AirAsia have responded more rapidly and with more accuracy to their customers, family members, and the media in general in comparison to the Malaysian accidents," said Curt Lewis, president of
Curt Lewis & Associates
in Arlington,
Texas
, an airline safety and accident investigation consultant. "Perhaps a learned lesson of what not to do."
Indonesian search crews have recovered debris and six bodies floating in the sea from the AirAsia plane that went missing on Sunday with 162 people on board. By contrast, not a single piece of wreckage has been found from
Malaysian Airline System Bhd. (MAS)
Flight 370, which vanished March 8 on the way from Kuala Lumpur to Beijing with 239 people on board.
The airline and the Malaysian government's handling of the crisis were criticized for a lack of urgency in the initial hours, transparency in releasing information and coordination on where to search. The hunt for MH370 is the longest in the history of modern aviation.
"There was a reluctance to admit that they had a problem, a reluctance to admit they had screwed up because they didn't do anything for about the first four or five hours, a reluctance to admit they didn't have the necessary resources and the capability to resolve this problem, which just kept getting bigger and bigger," Desmond Ross, principal of
DRA Professional Aviation Services
in Sydney,
Australia
, said of
Malaysia
's search. "They dug a hole for themselves that was so deep they couldn't climb out."
MH370 Mystery
The
disappearance
of the Malaysia Airlines Boeing Co. 777-200 jet has baffled authorities as contact was lost less than an hour into the journey with no emergency warnings. A search continues across 60,000 square kilometers (23,000 square miles) of the southern Indian Ocean, an area about twice the size of
Belgium
. The company's hunt was further hampered by the July loss of Flight 17, a casualty of the conflict in eastern Ukraine with the plane shot down en route from Amsterdam to
Kuala Lumpur
. MH17 was carrying 298 passengers and crew.
Indonesia and AirAsia avoided the pitfalls that hindered the response to the MH370 disaster and were open about asking for help, Ross said. The search teams have now used sonar to detect a larger part of QZ8501 under water.
"This whole AirAsia thing has been handled in a better way," he said. "They just leaped straight in, all hands to the pump and have sort of gone for it, which is a much better scenario."
Easier Search
There were other factors making the search for AirAsia easier than the one for Flight 370, including the shallow depth and smaller area of the search zone, and a more accurate assessment of the plane's last know position, John Goglia, a former member of the U.S. National Transportation Safety Board, told Bloomberg Television.
"We have a lot more information with this plane than we have with the others," he said.
Malaysia Airlines offered assistance to AirAsia after its plane disappeared off the coast of Borneo, a company spokeswoman said. It was unclear if that offer was taken up.
Prime Minister Najib Razak's office referred queries to Hishammuddin Hussein, who was acting Transport Minister when MH370 was lost. There was no response to two
text messages
sent to Hishammuddin's mobile phone.
Malaysia Criticism
The Malaysia Airlines plane vanished in March after a system that transmits a jet's location was shut off. The way the plane then turned off course toward Malaysia and out into the ocean convinced investigators someone sought to cloak its path, according to Najib. Officials estimated MH370's likely final location by analyzing hourly pings between the plane and an
Inmarsat Plc (ISAT)
satellite. That method forced searchers to initially spread out over 217,000 square kilometers of open water.
Malaysia came under fire from families of those on board Flight 370 and foreign governments.
Vietnam
, which took part in the search, expressed concern about early coordination efforts and said Malaysian officials weren't responsive to requests for information.
China
, which had 154 nationals on board, noted the lack of progress in the search and called for greater transparency. Some family members accused the government of a cover-up when it announced the plane was lost in the
Indian Ocean
with no survivors.
'More Zeal'
Malaysia's government, which has been led for more than 50 years by the same political coalition, appeared caught off guard by the criticism. Indonesia's government, which took office in October, is led by Joko Widodo, whose rapid rise to the presidency was built on a reputation for being a man of the people known to take unscheduled walks to chat with the public.
"The Indonesians seem to have reacted much quicker, with more zeal, and have been more welcoming of international support, than the Malaysians," said Richard Bitzinger, coordinator of the military transformations program at the S. Rajaratnam School of International Studies in
Singapore
. "The Indonesians haven't been as secretive or defensive, or as hostile toward outside criticism."
Since the disappearance of Flight 370 Malaysia Airlines has delisted, unveiled a 6 billion-ringgit ($1.7 billion) restructuring package aimed at restoring profitability in three years, and hired a new chief executive officer, former Aer Lingus Group Plc chief Christoph Mueller. The airline, which traces its beginnings to the 1930s, will cut its workforce to 14,000 from 20,000.
'Sad Time'
AirAsia Chief Executive Officer
Tony Fernandes
, a Malaysian, has taken a hands-on approach to the disaster at his airline, shuttling back and forth between the airport at Surabaya where the plane took off and Jakarta, and engaging the public on social media. "We will go through this terrible ordeal together," he said in a Twitter post the day the plane disappeared.
Once debris was discovered and bodies found he offered his condolences to the families of passengers, tweeting: "Words cannot express how sorry I am."
Malaysia Airlines in a statement yesterday sent its condolences to those affected by the AirAsia disaster.
"As an airline that has recently experienced such great sadness, we stand in solidarity to offer our thoughts and prayers to everyone affected by this tragedy and with the team at AirAsia," it said. "This is indeed a sad time for everyone working in aviation and for all guests who fly."